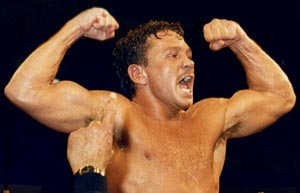 Paz Film Now Punching In
Location Scout and Press Event to introduce the participants behind the film
August 21, 2013 @ The Dunk Center in Providence, Rhode Island

BLEED FOR THIS, one of the most incredible and dramatic comebacks in sports history, tells the true-life story of world champion Rhode Island boxer Vinny Pazienza as he recovers from a near fatal car accident and goes on to win three additional world boxing titles.

The Rhode Island based motion picture will be helmed by writer-director-producer Ben Younger (BOILER ROOM, PRIME) and produced by Chad Verdi (LOOSIES, SELF-STORAGE, A BET'S A BET), Noah Kraft (LOOSIES, INKUBUS), and Oscar-winning producers Bruce Cohen (AMERICAN BEAUTY, SILVER LININGS PLAYBOOK), Emma Tillinger Koskoff (WOLF ON WALL STREET, BOARDWALK EMPIRE) and executive produced by Academy-Award winner, Martin Scorsese (HUGO, THE DEPARTED, GOODFELLAS), and Michelle Verdi (LOOSIES,
A BET'S A BET). Pam Thur-Weir (THE SORCERER'S APPRENTICE, ACROSS THE UNIVERSE) is line producing.