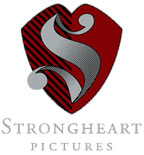 PROVIDENCE WELCOMES
"THE EDUCATION OF CHARLIE BANKS"
CRANSTON, RI ––Strongheart Pictures is pleased to announce the Rhode Island theatrical release of THE EDUCATION OF CHARLIE BANKS starring Jesse Eisenberg and Jason Ritter. It will open exclusively at the Avon Cinema on May 8th and play through May 14th. The film, which was shot in Providence and New York, received much acclaim at the 2007 Tribeca Film Festival, winning the prestigious "Made In New York" award.
THE EDUCATION OF CHARLIE BANKS was selected by iconic film critic Leonard Maltin to be shown to his University of Southern California film class. Maltin teaches a course of Theatrical Film Symposium with 360 students, many of them film majors. The film was screened to the entire class on March 26, 2009 at the schools Cinematic Arts Complex. "It was a great achievement for everyone involved, that our film was selected to be screened by Mr. Maltin." Stated Matt Corona of Strongheart Pictures. "He found the movie to be well developed and had wanted to explore the depth of its characters and personalities in detail with his class."
Additional notice of the solid character performance is confirmed with several other critic reviews such as writer Elliot Kotek of Moving Pictures Magazine who stated "Jesse Eisenberg… (is) perfectly appropriate for this role and would be the one to watch if Jason Ritter weren't so damn good… Ritter really breathes a palpable sense of danger to the role..." Hollywood and Fine commented that the performance by Eisenberg and Ritter is one that "creates a teasingly tense chemical reaction." Jason Ritter was also awarded the "Best Breakthrough Performance" award at the 2008 Lone Star Film Festival for his role.
THE EDUCATION OF CHARLIE BANKS, www.charliebanksmovie.com written by Peter Elkoff, is a riveting tale about college students learning to deal with life, love, and ultimately facing their fears. A compelling drama of class conflict reminiscent of "Good Will Hunting" marks Fred Durst's directorial debut. The film also stars Chris Marquette, Eva Amurri, Sebastian Stan and Gloria Votsis, with music supervision by Chris Douridas and photography directed by Alex Nepomniaschy.
"We are thrilled to bring THE EDUCATION OF CHARLIE BANKS to Providence," added Corona. "The vintage charm of Providence and the Brown University campus truly were crucial to setting the tone of the film and we are delighted that our local audiences will get to experience it theatrically." "THE EDUCATION OF CHARLIE BANKS" has been rated R for adult language, violence, and adult content.
About Strongheart Pictures, LLC Strongheart Pictures, LLC www.strongheartpictures.com is an independent film production company based in Cranston, Rhode Island. Its mission is to produce creative films – bringing fringe and emerging directors and artists to a wider audience. Strongheart Pictures is designed to facilitate the development, funding, production and distribution of these films.