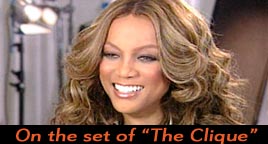 We're on location in Rhode Island with the talk-show host and top model, who is executive producing 'The Clique' -- her first foray controlling the strings in the big-screen world!

"The one thing I love about 'The Clique' is there's beautiful sugar and fashion and fun, but there's a message underneath it," Tyra tells ET, revealing that in eighth grade she was 5'9 and weighed 98 pounds: "I was really skinny, so I became the freak at school."

Based on the best-selling series of Clique books that have sold millions of copies and spent nearly 100 weeks on the New York Times bestseller list, 'The Clique' explores the highs and lows of junior high life through the eyes of an elite group of socially precocious twelve-year-old girls from the wealthy New York suburbs.

"I identify with 'The Clique' personally, because I've been on both sides," says Tyra. "I've been the queen bee ... and I've been the girl that wants to be in it so badly, but is just so awkward [and] never will be."

'The Clique' is now available on DVD.