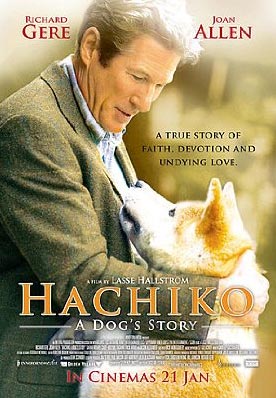 "HACHI" TO SCREEN IN WOONSOCKET
The Rhode Island Film & TV Office and Sony Pictures are pleased to announce that the movie "HACHI", starring Richard Gere and Joan Allen, will be showcased at a free screening to be held at the historical Stadium Theatre in the City of Woonsocket at 7:30 PM on Thursday, March 4, 2010 prior to its worldwide DVD release.
"HACHI" is based on the true story of a college professor and his adoption of an abandoned dog who becomes his best friend. Their relationship changes both of their lives as they form an unbreakable bond. Photographed primarily in Woonsocket, Bristol, Providence and on the Kingston URI campus, "HACHI" also stars Jason Alexander. Academy Award nominee Lasse Hallstrom ("CIDER HOUSE RULES", "CHOCOLAT") directed the family drama.
Steven Feinberg, Executive Director of the RI Film & TV Office said, "We are very excited to share this heart-warming movie with the local crew, cast and community members whose talent and hard work contributed tremendously to this beautiful film. The theme of loyalty resonates throughout, and it's fitting that our dedicated citizens are given a preview of this wonderfully photographed production and its inviting locations."
Due to the size of the venue, a limited number of seats are available. You may email your ticket request to rifilm@arts.ri.gov. No phone calls, please.
Visit the RI Film & TV Office website at http://www.film.ri.gov
The RI Film & TV Office is a division of the Rhode Island State Council on the Arts.